Do you have a vision for how you'd like your home to look, but aren't sure what it will take? Here's a guide of questions to ask yourself to help you weigh your options in deciding between a renovation or a new build.
1. What is the scale of your project? How many of the original home's details do you want to change?
When determining whether to remodel your home or build new, you should first determine the scale of the project you're going to take on. Make a list of all the improvements you would like your home to have, and prioritize them from most to least important. This will help you identify the scale of your project, solidify a budget, and determine whether a remodel is possible or a new build is necessary.
Are you looking to make updates like new bathrooms, more modern kitchen cabinets, or a fresh laundry room? Or are you wanting to upgrade your historical home while still preserving its charm? These are cases where you'll need to assess the scale of the details you want to change, and from there choose the wiser option (remodel vs. rebuild).
There are definite cases where you should opt for a rebuild: if your home is falling apart at the foundation, if the home is older and needs to be more energy-efficient, if you need additional space, or if it has been inspected and it's only a matter of time before the walls come down (literally).
Building a new house is no small job. It's an all-or-nothing process that can take longer than you anticipated. It may require a temporary living situation so that your home can be rebuilt in an efficient and timely manner.
Building your dream home, completely customized to your life, family, and style yields great happiness. While it can take a bit longer and require a larger budget to complete the rebuild, it saves you the peace of mind when you complete the entire home at once rather than room by room. At the end of the rebuild, it's worth it to live in the home of your dreams.
On the other hand, a home remodel can be a great option to take if your home is structurally sound, but only needs cosmetic updates such as new flooring, paint, appliances, etc. in order to create the transformation you're looking for. Remodels are also great for opening up rooms to create extra space you needed, but never knew you had!
Explore our renovation options
Before you commit to a renovation, keep in mind your project goals, your creative vision, your budget, and how long you'd like to stay in your home.
2. Does your home have structural problems?
Structural damage is defined by Water Damage Advisor as "any type of damage that affects the core integrity of your home. This includes the foundation, walls, roof, and load-bearing walls. When structural damage occurs, the structure itself may no longer be able to support the house."
After the home has been inspected and structural issues are uncovered, it's never wise to just paint over the problems. While it might be more aesthetically pleasing, there's a ticking timer on the overall safety of your home and in many cases, a new build is wiser than a renovation.
What is considered structural damage to a house?
If you're noticing small concerns like uneven staircases, cracked exterior concrete, or drywall damage, it's in your best interest to hire a professional to inspect the house for structural damage.
Use these clues as signs of structural damage:
Interior Structural Damage:
Drywall or plaster cracks, especially around door frames and in basement walls.
Bowing or caving in of walls.
Nail pops in the drywall that create a bulge where drywall might have moved.
Gaps between floorboards and between floors and walls.
Uneven or slanting floors
Exterior Structural Damage:
Cracks in foundation walls
Cracks in stairs, brick, or stonework
Cracks in window panes or window glass
Gaps between stairs or porch and the home
Gaps in door or window frames
Cracked or leaning chimney
Can structural damage to a house be fixed?
Structural damage can be fixed to an extent, but it depends on the scale of the damage. It should also be fixed as soon as possible, before more damage occurs and leads to even more serious repairs that may sway you to rebuild. Even if the damage is minimal, it should be checked out by an expert before moving forward with the project.
For example, water damage may look like just a drywall stain but is actually pointing to a larger structural issue at hand. Thankfully, floors, sagging drywall, and moldy carpet can all be replaced but they need to be addressed during reconstruction.
Then there are foundation cracks in the concrete that aren't uncommon after the first year or so of construction. It's important to track these cracks to see if they become deeper and if water begins to seep in. Foundation cracks are another form of structural damage that can be repaired on a case-by-case basis.
Pivoting plans to address structural change and damage is a normal part of the remodeling/rebuilding process and that's why an inspection happens before you begin demolition on the remodeling or rebuilding process. The last thing you want to happen when renovating is to get halfway through your work and realize you actually need a rebuild, because of hidden structural damage!
3. What is your budget?
The plan and budgeting phase of the project is essential to your entire project. Determining what needs to be done will guide and influence your budget. Determining a realistic budget takes into account unexpected surprises while also staying within your means is extremely essential at the beginning. Setting the route before you begin the demo will help guide you on your home's rebuild or remodel process and which is more budget-friendly
Where your budget allows, it definitely pays to get professional help. If you lack renovation experience, professional renovators and builders can help you make smart choices and do the hard work for you.
So, is it cheaper to remodel or to rebuild?
Remodeling (in most circumstances) is definitely the less costly option to choose—after your home has been inspected for structural damage and isn't in need of any major structural repair; however, any time you're renovating the structure or the layout of the home it will involve moving walls which means a larger budget is required.
On the flip side, a new build requires the demolition of the existing home and construction from the ground up (or purchasing land elsewhere!) Rebuilding can be a costly option, but in certain circumstances, it can be a better long-term investment.
If you're choosing to rebuild, you'll be able to design the home of your dreams. You'll have the ability to start fresh, and completely customize your home from the size, layout, design, and every detail in between.
Start your New Construction Project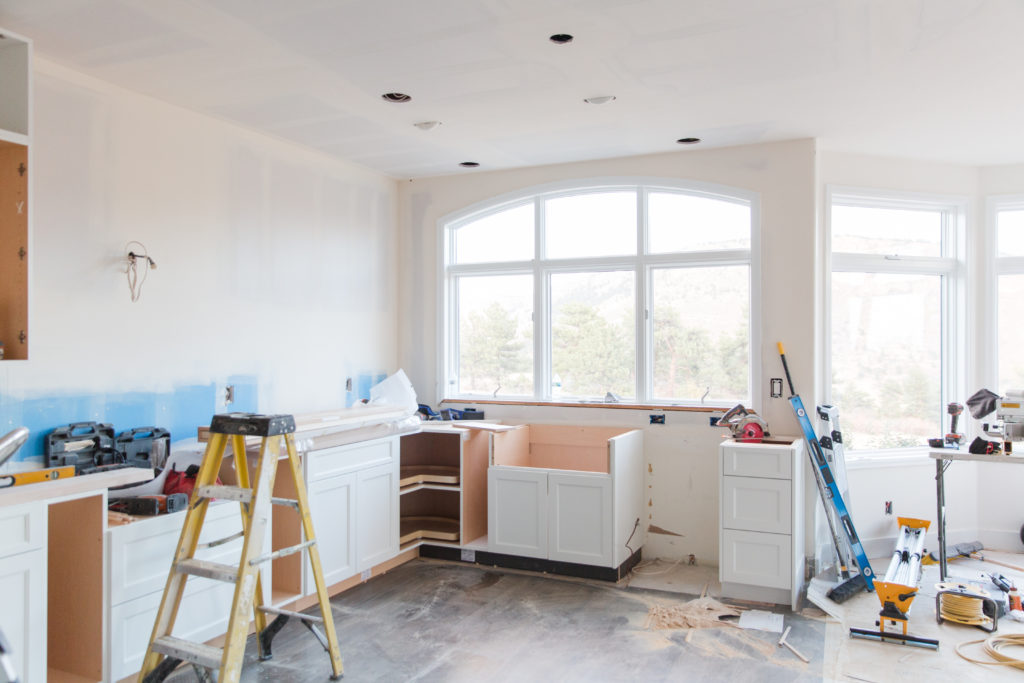 4. What is your desired timeframe?
If you have a short time frame in which to complete your project, you should opt for a remodel vs. doing an entire rebuild of your home. However, if you do not have a tight time frame to complete your project, then spending the extra time will be worth it for the home of your dreams.
Remodels are faster because there are fewer permits, regulations, and inspections involved in the project. Interior remodeling of a kitchen, for example, can take several weeks to 6 months to complete depending on if you need to relocate plumbing, for example.
Rebuilding your home from the ground up requires more time and money because there's more permits to follow and get approved. The first step in rebuilding is laying the correct structural foundation is a great opportunity to get it right the first time. You're setting the tone for the rest of the rebuild. The rebuilding process can take up to 6 months up to a year to finish but you'll be saving time and money because you won't be running into foundation issues down the road.
5. How long do you plan on staying in the home?
When planning your remodel or new build, determine how long you will plan to be in the house. If you're planning on living in the home for the long term and then selling, it's financially wiser to rebuild your home if it needs extensive work. As time passes, so does the timer on all of your home's appliances, paint, roof, flooring, and more. So, upgrades in these areas are valuable to agents and buyers when it's time for you to sell.
More Upgrades to Increase Your Home's Value